Muktinath Tour from Kakarvitta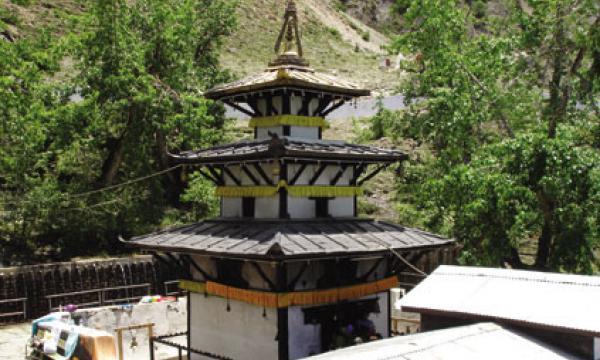 Introduction:
Mukti means Salvation or Nirvana and Nath mean god or Master. Mukti Holds grate significance for all spiritual people in the south Asian sub continent. Muktinath This Sanskrit name itself has religious overtone and a sort of emotional ring to it for the devout Hindus. The name is synthesis of two words - (the provider of salvation) has been one such holy site, where thousands of devotees flock for attaining the much sought after moksha (Freedom) from the cycle of birth and rebirth. It is an ardent wish or a dream if you may say, of every Hindu to get Mukti-Nirvana from this cycle taking births over and over again. It is belief of the Hindus that this world is "MAYA" (an illusion) and the earliest one gets out of it the better and a visit to Muktinath will help them achieve that goal. Since then it called Muktinath.
Short Itinerary
Day 1: Arrival at Kakarvitta Border (Near Silgudi, New Jalpaigudi)
Day 2: Pokhara -Muktinath
Day 3: Jomsom- Pokhara
Day 4: Departure
Cost Includes
Arrival and departure transfer.
Three night's hotel accommodation with twin sharing basis on Bed and Breakfast basis.
Pokhara to Jomsom and Jomsom to Pokhara by flight.
Transfer from hotel to Airport in Pokhara.
Transfer from Jomsom to Muktinath and Muktinath to Jomsom.
Guided sightseeing at Pokhara as per trip schedule.
All the necessary entrance fees.
Annapurna Conservation fees.
Muktinath permit.
Cost Excludes
Personal expenses, bar bills, emergency evacuation, lunch, dinner travel insurance as well as other stuffs
Detail Itinerary
Day 1: Arrival at Kakarvitta Border (Near Silgudi, New Jalpaigudi)
Border Pick up from Kakarvitta Border and drive to Pokhara around 12Hrs. Pokhara arrival and transfers to Hotel. Refresh & overnight at Pokhara Hotel.
Day 2: Pokhara -Muktinath
Early morning flight to Jomsom then by jeep drive to Muktinath 1.30hrs drive puja and 108 water spot holy bath. Return back to Jomsom around 1.30 hrs by jeep. Overnight at Jomsom.
Day 3: Jomsom- Pokhara
Early in the Morning fly to Pokhara. Arrival and transfer to Hotel Rest then Pokhara city sightseeing place to visit Bindabasini Temple, Seti River gorge, Gorkha Museum, Devi''s waterfall, Mahadev Cave and visit the Barahi Temple by boat ride in Fewa Lake, back to hotel, Evening leisure and overnight.
Day 4: Departure
AM breakfast, departure transfer to yours onward destination.
Clients Reviews
5
Usha Srinivasn
India
We had taken a Mukthinath Tour organised by Lumle Holidays. We had started the tour from Khatmandu . we were given a excellent guide Mr. Mahdav. We were given a very homely treatment, excellent accommodation and royal treatment. 
The tour was customized for our needs. We never felt we were away from home. All our needs were taken care off and we had a wonderful Dharshan at Mukthinath besides, all other temples in Pokhara and Kathamandu too. We would recommend these tour operators very highly.
5
Subhagata Dey
India
I and my wife had undertaken a 10N/11D tour to Nepal with the Lumle Holidays. The tour encircles the places like Kathmandu, Pokhara, Chitwan, Lumbini,Daman, Nagarkot. The whole tour was organised by Lumle Holidays. I should say that I am more than satisfied with the arrangements made by Lumle Holidays. Moreover the reciprocation and behaviour of MR Sharma and Mr Maharjan was worth mentioning. They were always replying fast to my emails and other communication. 
The hotels provided was among the best as per my budget. The travel arrangements were also very good( not to forget about Mr Tika, who was the friend, philospher, guide and driver for the entire tour). On a n overall basis I am pretty well satisfied and would look forward to contact them in all the future Nepal tours.
5
Sanjay Simha
India
It has been a real pleasure dealing with Lumle Holidays. Initially we were a bit skeptical dealing with Nepal tour operator remotely. However, as responses and details were received, our confidence grew. Our main intent was pilgrimage to this holy place starting from Kathmandu.
All aspects of the tour program were clearly documented and all arrangements done including some of our special requests with reasonable charges. Travels, accommodation, entry tickets, sight-seeing and food arrangements/ suggestions were handled very well. Not only our main intent - Muktinath darshan, but also other attractions at Pokhara, Kathmandu and Manakamna enroute were covered - beyond our expectation. It was tailor made to a 7-day 6-night program (though normal standard seems 6D/5N). Despite some scares about possible weather / flight disruptions, we had a very good journey and darshan & sight seeing all through.
Ask them all questions what to carry and what not, and all tips about restaurants shopping etc,, you get response soon.
Overall it was time and money well spent with a professional operator.
The various guides were very knowledgeable & friendly, including Mr. Sharma himself and Mr. Maharjan & driver cum guide Teeka-ji. Professional dealing, homely comfort, good decent accommodation and transport.
5
Kothandaraman
India
Me and my family, total four member were planing to have a darshan of Muktinath and this makes possible by Lumle Holidays. It was well organised, well co-ordinated and special appreciation to Mr. Nipendra Maharjan for promptly calling and caring about our journey. Weather was really favorable on us and we saw the closest snowcapped mountain from Jomsom like standing infront of us.
On the whole it was a good trip and willing to visit Nepal again with these people. I do recommend to all to go with this company.
5
Venkatesan
India
At the outset Mrs Jothi & I (we) would like to convey our heartfelt Namaste and thanks to you & your service.
We are extremely happy about our entire trip. It was very nice of you to come to airport on 03 March, 2014 to pick us up - a gesture we will never forget. You have organised good hotels for us. We felt at home and enjoyed our stay.
Om's Home Hotel stay at Jomsom unforgetable. God had blessed us and weather which we would never forget for our life. We had good Darshan of the Lord Vishnu. Mr. Krishna took care of us very well. My thanks and regards to him.
Your driver Amir was good, safe driver and a nice guy, my thanks to him.
Our stay in Kathmandu was good, thanks for taking us to Pashupatinath Temple and arranging for Krishna Mandir.
Overall our experience was great and we throughly enjoyed your company.
Once again we thank you for your extremely good serivce and our regards to your family. May god bless you all.
We look forward to seeing you again in future specially Mount Kailash/Mansarover & if god will help Muktinath again.
Please visit us when you come to India - Chennai.
Thanking you once again & warmest regards.
Dr. VENKATESAN SOUNDAR RAJAN,
Vihaya/Apollo Hospitals, Chennai, India.
view all