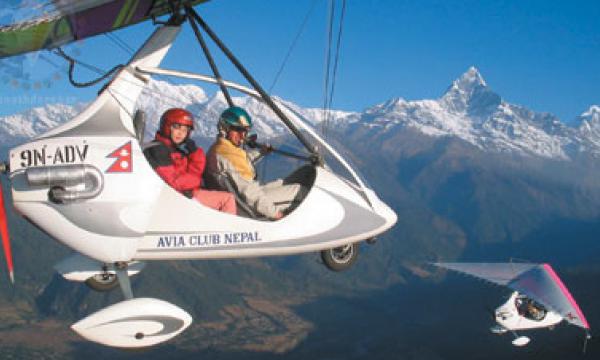 Trip Facts
| | |
| --- | --- |
| | 5 Star |
| | Dec 24, 2017 |
| | 1 days |
| | meters |
| | people |
| | Flight |
| | Pokhara |
| | Pokhara |
| | Adventure Tour |
Introduction:
To experience being air borne on the ultra Light aircraft in Nepal, you will have to head off to Pokhara. This scenic town surrounded by spectacular hills and commands great views of mountain peaks. It also has a giant lake and all the scenic places around it make it a great destination for traveling. Right from Icarus to the Wright brothers, man's quest of developing wings as natural as the birds has never ended. The quest does limit itself somehow with the Ultra Light Aircraft. Ultra Light Aircraft is a small light weight airplane with an engine. Once you have taken off in to the air, this aircraft, in the right conditions can switch off its engine and glide through the air almost like a hand glider. The cockpit can be either enclosed or open depending on the aircraft. It gets its name for its light weight frame. The Ultra light flight gives you thrill and excitement of being in the air dependent on the wind, yet it does not involve any risk or danger. The flight has an engine to help with the landing process and can come handy if the weather decides to change. The cockpit has enough room for you and the pilot. The Ultra light flight is a great way to see spectacular mountain peaks and the earth below.
Fly for Fun: (15 minute flight)
Our shortest flight takes you over the city of Pokhara, Phewa lake, near Sarangkot hill, over the Buddha monastery and the south side of the city. This short flight at the speed of 50 km/hr to 90 km/hr will give you a panoramic view of the whole Annapurna Range with a view of another 8,000 miter peak - Dhaulagiri, in the distance. The maximum altitude attained is 5,000 feet. 
Appeals to flyers on a budget or for those who have a plane to catch for Kathmandu.
Booking Price: 57.00 Euro 
Airport Tax : ~170 Nrs (Nepali Rupees) - will be charged at the airport.
(Please Note: The above cost is subject to change without prior notice)
Touch the Fish Tail: (30 minute flight)
This flight of medium duration, takes you slightly higher and farther. You'll fly over the Tibetan refugee camp and as far as Lamachour, on the northern part of the valley. This flight takes you as close to the Fish Tail mountain as its possible with the speed of 90 km/hr. The view is simply superb.
Many people that have flown on this trip have told us they felt the flight was too short and regret they didn't take the 1 hour flight.
Booking Price: 90.00 Euro 
Airport Tax : ~170 Nrs (Nepali Rupees) - will be charged at the airport.
(Please Note: The above cost is subject to change without prior notice) 
Mountain Range Sky Trek: (1 hour flight)
A truly memorable addition to any trip to Nepal. This flight covers the whole Annapurna range with the speed of 90 km/hr to 130 km/hr and the altitude of 12,000 ft. This is a truly 'above the clouds' experience - beautiful view! 
This absolutely astonishing flight is a must.
Booking Price: 167.00 Euro 
Airport Tax : ~170 Nrs (Nepali Rupees) - will be charged at the airport.
(Please Note: The above cost is subject to change without prior notice)
Pokhara (Place of Operation)
The Pokhara Valley - one of the most picturesque spots of Nepal, is enhanced by its lovely lakes Phewa, Begnas, and Rupa. Situated 200 kilometers west of Kathmandu, Pokhara is connected by air or by buss from Kathmandu and Bhairahawa - a border town near india.
The view of the Himalayas from Pokhara provides one of the world's most awe-inspiring scenes. Nowhere else on earth can you get so close (25 miles) to so many peaks that exceed 22,000 feet while relaxing in a subtropical valley. 
Pokhara's proximity to the mountains and scenic lakes of the region makes it a perfect place for our ultralight base. A 15-, 30- or 60 minute flight gives you a unique view of the area.
Leave your woes behind on earth, soar to the heights, bathe in the clouds, reach out for the mountains and kiss the azure sky. It might be lonely at the top, but the spectacular view from high up there certainly makes up for everything.
Trekkers know Pokhara as the starting point for classic routes like the Jomosom trail, and as the ideal site for lazy recuperation after the three-week Annapurna Circuit. 
For non-trekkers the valley offers mountain views and glimpses of rural Nepali life going far beyond those of the Kathmandu Valley. For everyone, Pokhara is a wonderfully relaxing place.
Clients Reviews
5
T.S. Krishnakumar
Chennai, India
I first reached out to Lumle Holidays for a trip to Muktinath. The response was immediate and with clear itinerary and what is covered and what is not. It was a 4-day tour.
On the day we landed, we were received by the operations manager and taken to the Hotel and he explained us the whole tour. Small changes were accepted and immediately arranged. Our tour to Muktinath by helicopter was excellent. Everything was arranged professionally, punctually and with great care. It was a great value for money tour and it was an unforgettable experience to Nepal.
5
Usha Srinivasn
India
We had taken a Mukthinath Tour organised by Lumle Holidays. We had started the tour from Khatmandu . we were given a excellent guide Mr. Mahdav. We were given a very homely treatment, excellent accommodation and royal treatment. 
The tour was customized for our needs. We never felt we were away from home. All our needs were taken care off and we had a wonderful Dharshan at Mukthinath besides, all other temples in Pokhara and Kathamandu too. We would recommend these tour operators very highly.
5
Subhagata Dey
India
I and my wife had undertaken a 10N/11D tour to Nepal with the Lumle Holidays. The tour encircles the places like Kathmandu, Pokhara, Chitwan, Lumbini,Daman, Nagarkot. The whole tour was organised by Lumle Holidays. I should say that I am more than satisfied with the arrangements made by Lumle Holidays. Moreover the reciprocation and behaviour of MR Sharma and Mr Maharjan was worth mentioning. They were always replying fast to my emails and other communication. 
The hotels provided was among the best as per my budget. The travel arrangements were also very good( not to forget about Mr Tika, who was the friend, philospher, guide and driver for the entire tour). On a n overall basis I am pretty well satisfied and would look forward to contact them in all the future Nepal tours.
5
Sanjay Simha
India
It has been a real pleasure dealing with Lumle Holidays. Initially we were a bit skeptical dealing with Nepal tour operator remotely. However, as responses and details were received, our confidence grew. Our main intent was pilgrimage to this holy place starting from Kathmandu.
All aspects of the tour program were clearly documented and all arrangements done including some of our special requests with reasonable charges. Travels, accommodation, entry tickets, sight-seeing and food arrangements/ suggestions were handled very well. Not only our main intent - Muktinath darshan, but also other attractions at Pokhara, Kathmandu and Manakamna enroute were covered - beyond our expectation. It was tailor made to a 7-day 6-night program (though normal standard seems 6D/5N). Despite some scares about possible weather / flight disruptions, we had a very good journey and darshan & sight seeing all through.
Ask them all questions what to carry and what not, and all tips about restaurants shopping etc,, you get response soon.
Overall it was time and money well spent with a professional operator.
The various guides were very knowledgeable & friendly, including Mr. Sharma himself and Mr. Maharjan & driver cum guide Teeka-ji. Professional dealing, homely comfort, good decent accommodation and transport.
5
Kothandaraman
India
Me and my family, total four member were planing to have a darshan of Muktinath and this makes possible by Lumle Holidays. It was well organised, well co-ordinated and special appreciation to Mr. Nipendra Maharjan for promptly calling and caring about our journey. Weather was really favorable on us and we saw the closest snowcapped mountain from Jomsom like standing infront of us.
On the whole it was a good trip and willing to visit Nepal again with these people. I do recommend to all to go with this company.
view all