Named after the legendary King Janak, Janakpur was the capital of the ancient Indian Kingdom Mithila, the native country of goddess Sita, the wife of the Hindu god Rama and the heroine of the great Hindu epic Ramayana. Today Janakpur stands as the most cleanest and interesting place among all the towns of Terai.
Janakpur has become a great piligrimage site for Hindus today. The most sacred sites are the Janaki Mandir, dedicated to goddess Sita, the Ram Sita bibaha(marriage) mandir, built over the spot where Ram and Sita were said to be married, Ram Mandir, dedicated to god Ram and the holy pond Dhanush Sagar. Hundreds of Indian devotees come here every year to pay their respect to the goddess at this temple.
Besides the religious importance, Janakpur is also the center for the revival of the ancient Mithila art and craft. As a tradition, Mithila women have always been decorating the walls of their houses with paintings depicting figures from Hindu mythology in abstract forms, sometimes resembling a mandala.
Ram Janaki Tour Package
5 Nights / 6 Days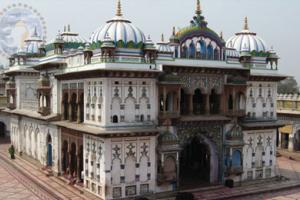 8 Nights / 9 Days