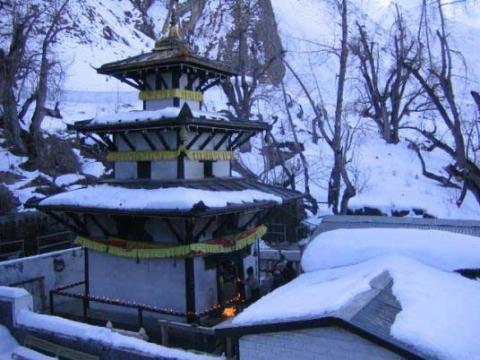 "Our Muktinath Tour Package main objective is to ease devotees in visiting Muktinath Temple of Nepal from Kathmandu, Pokhara, Chennai, Bangalore or Delhi with our rich travel guidelines. Here you can get all the information about the temple, its attraction, and various ways to get there, road map, best time to travel, required permits and suggested tour itinerary."
About Muktinath Temple:
Muktinath Temple word is derived from Mukti and Nath. "Mukti" means "Salvation or Nirvana" and "Nath" mean "God or Master". Mukti Holds great significance for all spiritual people in the south Asian sub-continent. Muktinath this Sanskrit name itself has religious overtone and a sort of emotional ring to it for the devout Hindus. The name is synthesis of two words - (the provider of salvation) has been one such holy site, where thousands of devotees flock for attaining the much sought after moksha (Freedom) from the cycle of birth and rebirth. It is an ardent wish or a dream if you may say, of every Hindu to get Mukti-Nirvana from this cycle taking births over and over again. It is belief of the Hindus that this world is "MAYA" (an illusion) and the earliest one gets out of it the better and a visit to Muktinath will help them achieve that goal. Since then it called Muktinath. The Hindus call it Muktichhetra (place of salvation) is one of the four religious sites. Many Shaligrams (Ammonite) found during Muktinath Yatra over here are considered by Hindu as incarnation of lord Vishnu and worship them. According to Hindu Myth lord Vishnu turned into Shaligram because of Brinda's Curse. Muktinath Temple is opened throughout the year but especially in Rishitarpani, Ram Nawami, and Bijay Dashami thousands of pilgrims gather here to celebrate the festival. 
Muktinath Temple (Chumig Gyatsa):
The Pagoda style Muktinath Temple is symbol of the religious symbiosis between both Hindus and Buddhists. Hindu believes that lord Vishnu got salvation from curse of Brinda (wife of Jalandhar) here. Therefore he is worshipped as Muktinath (Lit. the lord of salvation). The holy shrine, which is said to have risen on its own, is one of eight such shrines (the others include Srirangam, Sri Mushnam, Tirupati, Naimisaranyam, Thottadri, Pushkaram and Badrinath). It is also one of 108 Vaishnava shrines. Here in the early 19th century the Hindus consecrated a Vishnu Temple and named is Muktinath - Lord of Liberation. Against a backdrop of incredible starkness you can sit and stare to the south the snow covered Annapurna range, or to the north the Tibetan plateau.
Attraction:
Mukti Kunda: Two holy water ponds known as "Laxmi Saraswoti Kunda" located in-front of the temple. Taking plunge here is believed to rinse away your sin.
Mukti Dhara: 108 water spouts (bull head shape) in the back yard of this temple where holy water (chill) from Gandaki River flows continuously. Taking bath under all these 108 Muktidhara is believed to bring salvation.
Jwala Mai Temple: Continuously burning holy flame from rock located inside Dhola Mebar Gompa is just five minutes walking distance, situated in the south region of the temple.
Mharme Lha Khang Gompa: Monastery located in the north region of the temple is dedicated to Guru Rimpoche also known as Padmasambhava.
Swaminarayan: Satguru of Sabij Yoga.
Shaligram: Fossils of the Jurassic park age that is found in Kali Gandaki River. This black stone is the symbol of lord Vishnu and kept in prayer room in the home.
Travel Guideline:
How to go to Muktinath Temple from Kathmandu or Pokhara?
By helicopter (1:30hrs each way): Muktinath darshan by helicopter can be done in just one and half hour from Kathmandu airport. After having darshan/pooja at Muktinath Temple either flies back to Kathmandu or to Pokhara as per your choice. Please note: There are not any regular helicopter schedule service from Kathmandu and Pokhara instead; one single helicopter needs to be charted for package. There are five and six seated helicopter is available to be chartered. So, it's a good idea to gather five, six people and share the Muktinath tour package cost.
By road and flight (3-7 days): Muktinath tour by road and schedule flight is another comfortable way to visit Muktinath Temple. Route goes like this: Drive from Kathmandu to Pokhara (206 km - 6 hrs.) halt overnight. Morning fly Pokhara to Jomsom (15-20 minutes) then hike for half hour up to jeep station, drive another one and half hour from Jomsom to Muktinath by jeep. Again hike for half hour to reach at Temple but people who can't walk can ride on horse. Have darshan and stay overnight at Jomsom. Next day fly back to Jomsom and either take connecting flight to Kathmandu or stay at Pokhara.
By road only (4-8 days): Muktinath yatra by jeep route goes like this: Drive Kathmandu to Pokhara (206km - 6 hrs.) stay overnight. Drive Pokhara to Jomsom via Beni, Tatopani, Ghasa and Marpha (170 km - 9 hrs.) stay overnight. Drive Jomsom to Muktinath have darshan and directly drive back to Pokhara, stay overnight. And drive back to Kathmandu.
By fight only (3-6 days): Firstly, fly from Kathmandu to Pokhara (25 minutes - starts from 8-9 am). Since, Pokhara to Jomsom flight is operated in early morning only, one night needs to be spent at Pokhara. Next day fly to Jomsom, drive to Muktinath and back to Jomsom, stay overnight there. Take the earliest flight from Jomsom to Pokhara and connecting flight to Kathmandu. Kathmandu to Muktinath by flight is another easiest way to visit the temple.
Tour Road Map:
Kathmandu to Pokhara, Pokhara to Jomsom and Jomsom to Muktinath Tour Road Map on Google Map.
Best Season:
March, April, May, September (mid), October, November are considered as the best time to visit Muktinath Temple. During these months weather used to be clear all the day and snow-capped mountains will be welcoming you with big smile.
Travel Permits:
Before beginning your journey from Pokhara to Muktinath by road, trek or by flight, you shall require to collect two permits. They are:
Annapurna Conservation Area Project Permit (ACAP): This permit can be collected from Nepal Tourism Board located at Bhrikuti Mandap, Kathmandu or at Pokhara &
Trekker's Information Management System Permit (TIMS). This permit can be collected from TAAN located one at Saatghumti, Thamel and another at Mali Gaun, Kathmandu or at Pokhara.
[Note: Four passport size pictures and a copy of your passport are required for this Muktinath Tour to collect required permit.]
Please contact us for further travel guide regarding Muktinath Trip, tour cost from Delhi, Chennai, Bangalore, Pokhara or Kathmandu by helicopter, flight, jeep, road, motor bike or by bicycle and weather condition.
Recommended Muktinath Tour Package
Muktinath Tour
4 Nights / 5 Days
Muktinath Package Tour 7 days
6 Nights / 7 Days
Pashupatinath, Muktinath and Valmiki Ashram Yatra
8 Nights / 9 Days
Muktinath Tour from Kakarvitta
3 Nights / 4 Days
Muktinath Temple Tour from Kathmandu
6 Nights / 7 Days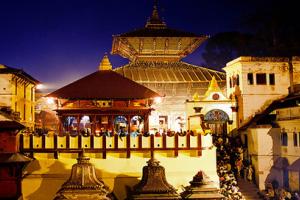 Pashupatinath, Muktinath and Chitwan Tour
8 Nights / 9 Days
Muktinath Darshan 6 days
5 Nights / 6 Days
Kathmandu, Muktinath and Janakpur Dham Tour
5 Nights / 6 Days
Muktinath Tour by Helicopter
3 Nights / 4 Days