Muktinath Yatra by Jeep 2023
Introduction:
Muktinath Temple is a sacred place both for Hindus and Buddhists located in Muktinath Valley at an altitude of 3,710 meters at the foot of the Thorong La pass, Mustang district, Nepal. The Hindus call the sacred place Mukti Kshetra, which literally means the "place of salvation". Mainly the temple is with a predominant Sri Vaishnava origin and worshipped by Buddhists. This temple is considered to be the 105th among the available 108 Divya Desam. The ancient name of this place, before Buddhist origin is known as Thiru Saligramam. This houses the Saligrama sila considered to be the naturally available form of Sriman Narayana (The Hindu God head). It is also one of the 51 Sakthi peetams. The central shrine of Sri Muktinath, predominant among all 108 Hindu SriVaishnava Divyadesam is considered one of the eight most sacred shrines for Hindu Vaishnavas known as Svayam Vyakta Ksetras, the other seven being Srirangam, Srimushnam, Tirupati, Naimisharanya, Totadri, Pushkar, and Badrinath. The temple is very small. Muktinath is one of the most ancient Hindu temples of God Vishnu. The murti is of gold and is tall enough to compare with a man. The prakaram(outer courtyard) has 108 bull faces through which water is poured. It is of freezing temperature. The sacred water that flows in 108 pipes around the temple complex denote all sacred Pushkarini waters (Temple Tanks) from all 108 Sri Vaishnava Divya Desams including Srirangam, Tirumala, Vaikunta, where the devotees take their sacred bath even in the freezing temperatures. In Hindu astrology, there are 12 zodiac or Rashi and 9 planets or Graha, giving a total of 108 combinations. Also, there are 27 Lunar mansions or Nakshatras which are divided in 4 quarters or Padas each giving a combination of 108 Padas in total. The worship is conducted by Buddhist nuns. The waterway downstream from Muktinath along Kali Gandaki is the source of all Silas or Shaligrams that are required to establish a temple of Vishnu anywhere in the world. It is considered to be one of the holiest places of pilgrimage for Hindus, Buddhists, and Vaishnavas.
How to go to Muktinath?
From Kathmandu to Muktinath by bus or by four-wheeler jeep will take you to Pokhara, Beni, Tatopani, Ghasa, Marpha, Jomsom, Kagbeni and then to Muktinath. Muktinath Tour by road is little adventurous one since, after crossing Beni, roads are bumpy and off roads. You will pass lots of waterfalls in this yatra and on the way you can spot snow-capped mountain's view.
Tour Map:
Short Itinerary
Day 01: Kathmandu Arrival & Pashupatinath Aarati Darshan.
Kathmandu Airport Arrival.
Greet and meet at the airport.
Then transfer to the hotel.
Short rest and complete official formalities.
A brief introduction to the whole program.
Evening visit Pashupatinath Temple for Arati Darshan.
Overnight at Kathmandu.
Day 02: Drive Kathmandu to Pokhara.
Breakfast at the hotel.
Today, we drive Kathmandu to Pokhara by a private jeep, 206 km - 8/9 hrs drive.
Enjoy the view of Greenery Hills, lots of small Villages, Trisuli River and Marshyandi River on the way.
After 100 km drive around 4 hours, we halt at Kuringtar to visit Manakamana Temple.
Ride on the Cable Car and visit wish fulfilling goddess Temple.
Darshan and continue drive to Pokhara. 3 hours drive.
Arrival at Pokhara and transfer to the hotel.
Free time.
Overnight at Pokhara.
Day 03: Drive Pokhara to Jomsom.
Early brekfast at the hotel.
Today we are heading towards Jomsom by a private jeep.
From Pokhara, Jomsom is 175 km and takes 7 to 8 hours.
En-route we are going to visit Baglung Kalika Mandir, Galeshwor Mahadev Temple, Natural Hot Spring, Rupse Water Fall, and lots of small villages.
After reaching Beni, road are hilly and bumpy road.
As we cross Ghasa Village, we will be welcomed by the giant snow-capped mountains which makes our journey very adventurous one.
Mountains will be playing hide and seek throught the journey.
Reach at Jomsom and hotel check in.
Rest at the hotel.
Overnight at Jomsom.
Day 04: Drive to Mutktinath, Darshan, and Return to Tatopani.
Breakfast at the hotel.
Muktinath is 20 km from Jomsom and takes 1 hour.
We drive to Muktinath by a private jeep.
First 10 km road up to Kagbeni is gravelled road and rest are blacked-topped road.
En-route visit Kagbeni Village where Kaligandaki and Krishna Gandaki River meet together.
Arrival at Muktinath and hike for half hour up to the temple.
Horses are available to ride if unable to walk.
Perform our ritual activities at Muktinath Temple, Darshan and drive back to Jomsom.
Have lunch and continue drive to Tatopani.
Hotel Check IN and rest.
Overnight at Lodge/Teahouses.
Day 05: Drive back to Pokhara and Local Sightseeing.
After Breakfast drive back to Pokhara, 3 hours drive.
Arrival and proceed for Local Sightseeing.
Visit Bindabasini Temple, Seti Gandaki River, Devi's Fall, Gupteshwor Mahadev Cave, and Barahi Temple at Fewa Lake..
Overnight at Pokhara.
Day 06: Drive back to Kathmandu.
After Breakfast drive back to Kathmandu, 7 hours drive.
Arrival and transfer to the hotel.
Free time/rest/shopping.
Overnight at Kathmandu.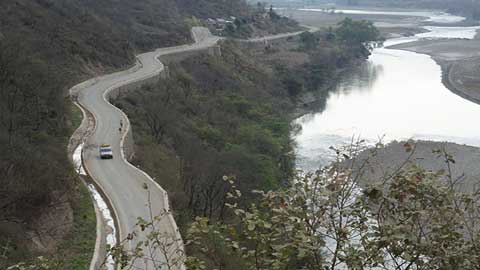 Day 07: Departure.
Breakfast at the hotel.
Hotel Check-Out Time 12 Noon.
Airport Check-In Time 3 hrs before the flight.
As per your flight schedule transfer to the airport.
Fly to your onward destination.
Our trip is complete here!
Our "Muktinath Yatra by Jeep" package is highly flexible and can be modified as per your request. The days can be extended more by adding sightseeing to the UNESCO World Heritage Sites in Kathmandu. Please do mention it during the inquiry.
Muktinath Yatra by Jeep Group Joining Price & Dates for 2023 (5% DIS)
| Arrival Date | Dep. Date | Cost (INR) | Status | Inquiry |
| --- | --- | --- | --- | --- |
| 04 SEP 2023 | 10 SEP 2023 | 30,500/- | Completed | - |
| 11 SEP 2023 | 17 OCT 2023 | 30,500/- | Completed | - |
| 02 OCT 2023 | 08 OCT 2023 | 30,500/- | Completed | - |
| 27 NOV 2023 | 03 DEC 2023 | 30,500/- | 6 Seats Available | Inquiry |
| 11 DEC 2023 | 17 DEC 2023 | 30,500/- | 6 Seats Available | Inquiry |
NOTE: Single Supplementary Charge Extra INR 17,500/-
Not found your preferable date? Don't worry, we can organize a private tour for you. Please Contact us to customize this trip on your date.
Cost Includes
Airport Pick up & Drop Transportation by private vehicle.
Accommodation in Kathmandu, Pokhara, Jomsom & Tatopani on a twin/triple sharing basis.
Kathmandu and Pokhara in 3-star hotels.
Jomsom and Tatopani in Local Tea House Lodge. 
Guided sightseeing tour in Kathmandu & Pokhara by private vehicle.
Kathmandu to Muktinath and return by private Jeep. 
Muktinath Darshan Permit.
Cost Excludes
Meals and Beverages.
Client's insurance.
Expenses occurred due to Medical evacuation, mishaps, landslides, strikes, political unrest, snowfall etc.
Rest of all not mentioned in cost includes.
What Customer are saying about Muktinath Darshan?