Muktinath Tour by Bus: Kathmandu to Muktinath by sharing Bus
Introduction:
Muktinath Tour by Bus is the cheapest travel option to visit Muktinath Temple from Kathmandu. Traveling in a group sometimes might not be possible and traveling alone or in two will be costly. In such case, joining in a sharing trip will be the best alternative. Yes, nowadays there is an overnight bus available from Kathmandu to Muktinath. It is sharing local bus that departs every day from New Bus Station, Kathmandu. We can manage the bus ticket for your travel and organize a package trip to Muktinath with a guide.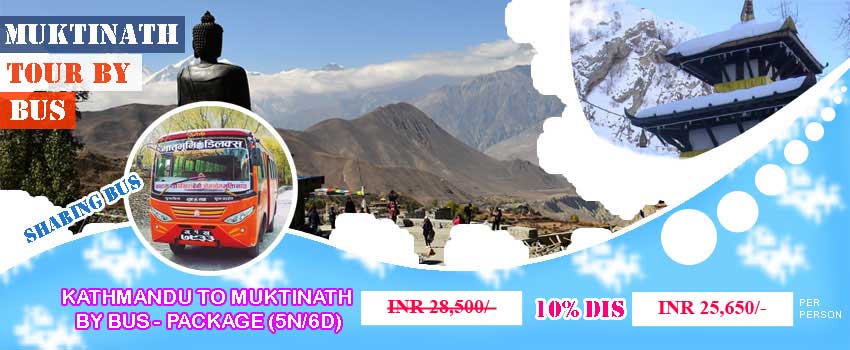 The trip begins with a visit to Pashupatinath Temple on the first day. Take grace with God Shiva then transfer to the new bus station at Gongabu. Around 3:00 pm departs Kathmandu to Muktinath on a sharing bus following the Prithvi Highway. The route passes through Pokhara, Beni, Tatopani, Ghasa, Marpha, Jomsom, Kagbeni, then to Ranipauwa, Muktinath.
Arrival Muktinath on the next day afternoon, hotel checks in and take a short rest. After refreshment, walk for half hour up to the temple and worship Muktinath God. Afterward, spend overnight at Ranipauwa Village then, next day morning drive back to Kathmandu on the same bus. Similarly, arrive Kathmandu another day and transfer to the hotel.
Short Itinerary
Day 01: Kathmandu Arrival.
Welcome to Kathmandu.
You will be picked up by our representative.
Transfer to the hotel near Pashupatinath Temple.
Hotel Check in and rest.
After short rest visit Gujheshwori Temple and Pashupatinath Temple by walk.
Back to the hotel and free time.
Overnight at Kathmandu.
Day 02: Drive Kathmandu to Jomsom.
Breakfast at the hotel.
Free time till 1:30 PM.
Transfer to the Bus Station, 7 km- 20 mins.
Check into the sharing Bus.
Around 2:30 PM drive to Muktinath following Prithivi Highway.
Road crosses through Malekhu, Mugling, Pokhara, Nayapul, Beni, Tatopani, Ghasa, Lete, Marpha then reach at Jomsom next day.
Break at Pokhara or Nayapul for Dinner.
Overnight bus journey. 
Day 03: Drive Jomsom to Muktinath & back to Jomsom.
Morning around 10-11 AM reached at Jomsom Village.
Short rest and break for Lunch.
First acclimatization.
After rest drive to Muktinath by sharing jeep/bus, 22 km - 2 hrs.
Arrival and hike for 15 mins plain and 15 mins ascending up to the temple.
Take a holy bath under 108 water springs and 2 Holy Kundas.
Darshan of Lord God Vishnu.
If you feel comfortable to breath stay at Muktinath.
Day 04: Drive back to Kathmandu.
6:00 AM: Morning again visit the temple.
Back to the hotel.
8:00 AM: Drive back to Jomsom by sharing jeep/bus.
11:00 AM: Drive back to Kathmandu by sharing jeep/bus.
Overnight Bus Journey.
Day 05: Arrival and rest.
Around 6:00 - 7:00 AM arrival at Kathmandu.
Transfer to the hotel.
Free time and rest.
Overnight at Kathmandu.
Day 06: Departure.
Breakfast at the hotel.
Free time.
Hotel Check Out time 12 noon.
Airport Check In time 3 hrs prior to the flight.
Transfer to the hotel.
Trip finished here!
Kathmandu to Muktinath by Bus Tour Cost:
Tour Cost: INR 28,500/- (10% Discount) = INR 25,650/- per person
(Cost valid for Indian Citizen only)
Cost Includes
Kathmandu airport arrival and departure by a car.
Twin bed sharing hotel accommodation at Kathmandu and Muktinath/Jomsom.
Breakfast at Kathmandu and Jomsom Hotel.
Kathmandu Bus Station pick up and drop by a car.
Kathmandu to Jomsom and back by a sharing overnight Public Bus.
Jomsom to Muktinath and back by sharing jeep/bus.
Gujheshwori and Pashupatinath Temple visit by walk.
Annapurna Conservation Area Project Permit (ACAP).
Whole tour escorted by a guide.
Cost Excludes
Meals.
Horse Hiring Charges at the temple.
Bar Bills like Mineral Water, Beer, Whiskey etc.
Extra expenses occurred due to landslide, strike, political unrest.
Extra stay charges except than above mentioned places.
Rest of all that are not mentioned in cost includes. 
What Customer are saying about Muktinath Darshan?