Muktinath Tour by Helicopter
Trip Facts
| | |
| --- | --- |
| | 5 Star |
| | NOV 19, 2023 |
| | 4 days |
| | 3710 meters |
| | 1 people |
| | Helicopter |
| | Kathmandu Airport |
| | Kathmandu Airport |
| | Muktinath Tour Package |
Introduction:
Are you searching for Muktinath tour by helicopter? Do you have limited time to visit Muktinath Temple? Wants to visit this sacred temple in just half day from Kathmandu or Pokhara? Looking for the best and cheapest fares to charter heli? Then, this Muktinath Tour Package is for you!
Highlights of Muktinath Helicopter Yatra 2023
Kathmandu to Muktinath by a chartered helicopter.
Visit Muktinath Temple and back in just 3 hours from Kathmandu.
Amazing view of the world's eighth highest peak - Mount Manaslu (8,163m).
Bird's eye view of Begnas Tal, Rupa Tal, Fewa Tal, and Pokhara Valley.
Panoramic views of towering snow-capped Mountains like Annapurna, Fishtail, Dhaulagiri, Tukuche Peak, Nilgiri, etc.
A marvelous desert landscape of Mustang District.
Views of Holy Gandaki River, Jomsom, Kagbeni, and Muktinath Village.
An adventurous horse ride from Helipad to Temple Gate.
Holy bath under 108 chilled water springs and 2 holy Kunda.
Worship Vishnu God.
About Muktinath tour by helicopter from Kathmandu
Why people visit Muktinath Temple?
Muktinath is the god of Salvation; it holds great significance for all spiritual people in the south Asian sub-continent. Muktinath (the provider of salvation) has been one such holy site, where thousands of devotees flock for attaining the much sought after moksha, have a holy bath on 108 waterspouts, name of "Muktidhara" & Holy bath in Mukti Kunda (2 Kunda in front of Temple), it's believing that it brings them salvation
Where does the temple located and its travel access?
Muktinath Temple is located at the laps of snowcapped mountains at Thorong-La pass at an altitude of 3710 meters above sea level in the Mustang district of Nepal. Travel access is a little difficult due to its harsh weather conditions. People can either fly from Kathmandu to Pokhara (25 minutes flight) then to Jomsom (15 minutes flight) and drive to the Temple (1:30 hours) or by roadway to Pokhara (7 hours by bus) to Jomsom (9 hours by jeep) then to the temple. Since, flight to Jomsom is operated in the early morning only, one night stay at Pokhara is a must. Nowadays people can charter a helicopter and easily access this temple in just 1 hour.
How much time is required by Helicopter?
Muktinath Temple is in a one-hour flying distance from Kathmandu and thirty minutes from Pokhara. After landing at the helipad at Muktinath, you will be provided one hour to have a darshan of Muktinath Dham. Temple is in a few minutes walking distances from the helipad. Since it's the windy place spending a long time for pooja might affect the flying time.
Muktinath Helicopter Tour Video
How many people are carried by Helicopter?
There are four and five seated helicopters available for charter to visit Muktinath Temple. So, it might cost expensive for one or two people and cheaper fare for more people.
What permits are required to visit this temple?
Muktinath temple lies in conservation and trekking zone. So, two permits are required to enter this area. One is Annapurna Conservation Area Project Permit (ACAP) and another is Trekker's Information Management System Permit (TIMS). It is restricted to enter in this zone without collecting these two permits.
Which are the best months?
March, April, May, June, September, October, and November are the best time to visit Muktinath Temple. During these months the weather will be clear and snow-capped mountains can be observed closely from Helicopter.
Can I visit Pokhara and stay there instead of returning back to Kathmandu?
Yes, you can. After Muktinath Yatra, you can land at Pokhara and stay there. The helicopter will be returned to Kathmandu. You can come back to Kathmandu either by Tourist Bus, Private Car or scheduled flight. By road, it takes seven hours and 25 minutes by flight.
Short Itinerary
Itinerary 1: Kathmandu to Muktinath by helicopter
Day 01: Kathmandu arrival.
Day 02: Fly from Kathmandu to Muktinath by chartered helicopter, after worshipping fly back to Kathmandu.
Day 03: Kathmandu sightseeing.
Day 04: Final Departure.
Itinerary 2: Pokhara to Muktinath by helicopter
Day 01: Kathmandu arrival.
Day 02: Drive Kathmandu to Pokhara - 206km - 7 hours.
Day 03: Fly from Pokhara to Muktinath by helicopter, perform ritual activities (worship, darshan, pooja) then fly back to Pokhara.
Day 04: Half day Pokhara sightseeing and drive back to Kathmandu.
Day 05: Kathmandu sightseeing.
Day 06: Departure.
Tour Map View:
Please contact us to know more about the best time to visit Muktinath Temple, Kathmandu to Muktinath helicopter fare or Pokhara to Muktinath helicopter cost, Pokhara to Muktinath by air cost, Pokhara to Muktinath by helicopter fare, Pokhara to Muktinath helicopter, helicopter service in Nepal, Jomsom to Muktinath helicopter fare, Kathmandu to Muktinath by flight, Pokhara to Muktinath flight fare and more.
Photo Gallery
Helicopter at the airport with captain
Jomsom view from Helicopter
Kaligandaki River view from Helicopter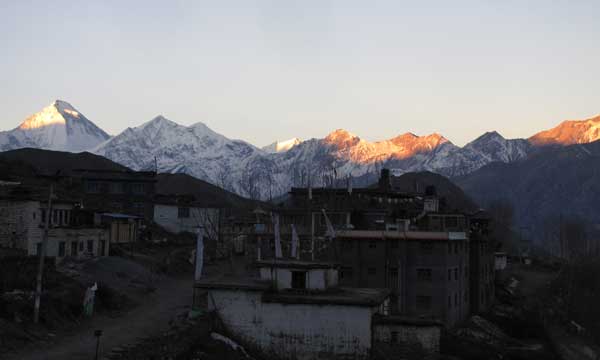 Mountain view from Muktinath
Muktinath Temple
Cost Includes
Airport Pick up & Drop Transportation by private AC vehicle.
Accommodation in Kathmandu on twin sharing basis with bed & breakfast
A three-star hotel in Kathmandu.
Guided sightseeing tour in Kathmandu by  AC vehicle as per itinerary
Kathmandu – Jomsom - Kathmandu by Charter Helicopter.
Jomsom-Muktinath-Jomsom local jeep drive.  
Muktinath permit.
ACAP (Annapurna Conservation Area trek Permit) fee.
TIMS (Trekking Information Management System) Card.
Cost Excludes
International Airfare.
Applicable & Airport tax domestic
Entrance/Monument fees.
Lunch/Dinner in Kathmandu.
Medical evacuation in case of emergency.
All kind of drinks (Alcoholic, hot and cold drinks)
Personal travel and medical insurance
Personal gears & clothing (available on hire)
Any kind of personal expense / Laundry / Helicopter rescue/ Emergency evacuation, Tips for staff.
Expenses incurred due to mishaps, landslide, strikes, political unrest, etc. in such case extra will be charged as per actual.
Any others expenses which are not mentioned on Our Service Include section
Detail Itinerary
Day 01: Kathmandu arrival
Welcome to the Himalayan kingdom of Nepal. You will be met at airport and transferred to your hotel. After the arrival, we will be briefing about your trip. If you have any questions or doubts about your trip should be asked and clarified at this time. Then evening you will be visiting Pashupati Nath Temple for Aarati Darshan, than back to Hotel. Overnight.
Day 02: Charter Helicopter to Muktinath
Early in the morning breakfast, transfer to domestic airport fly to Muktinath by Helicopter - 1 hour. After landing, few minutes ascending walk to reach the Temple. Muktinath is god of Salvation; it holds great significance for all spiritual people in the south Asian sub-continent. Muktinath (the provider of salvation) has been one such holy site, where thousands of devotees flock for attaining the much sought after moksha, have a holy bath on 108 waterspouts, name of "Muktidhara". & Holy bath in Mukti Kunda (2 Kunda in front of Temple), Hindu devotees take bath under chilled water of 108 waterspouts "Muktidhara" & Mukti Kunda, its believing that it brings them salvation, Have Darshan and worship to Muktinath Temple come back to Ranipauwa where Helicopter is waiting for us then fly back to Kathmandu. Arrive and transfer to hotel, leisure or individual activities.  Overnight at the hotel.  
Day 03: Kathmandu sightseeing
After breakfast, we start an interesting tour around Kathmandu city. Escorting by an English speaking guide (we can provide any language speaking guide on your request), try to give them a full taste of our culture, heritage, and local people. In our sightseeing tour we go to Pashupatinath Temple, Jaal Narayan (Budhanilkantha), Swayambhunath (Monkey temple) and Kathmandu Durbar square
Pashupatinath Temple:  Dedicated to Lord Shiva, this is Nepal's most sacred Hindu shrine and one of the subcontinent's great Shiva sites. The supreme holiness of the site stems from the Shiva linga enshrined in its main temple. It expresses the very essence of Hinduism as pilgrims, priests, devotes, temples, ashrams, images, inscriptions, and cremation ghats intermingle with the rituals of daily life, all sprawled along the banks of the sacred Bagmati River. The temple's origins are obscure. An inscription here dates from 477 AD, but the shrine may have stood there for 1000 years before that.
Jaal Narayan (Budhanilkantha): Jaal Narayan popularly known as Budhanilkatha about 12 km north of Kathmandu, at the Shivapuri foothills is the largest Vishnu lying on a coiled five headed serpent carved in a single stone. Jalasaya Narayan is Lord Vishnu for Vaisnavas, Lord Shiva for Shivas, and Lord Buddha for Buddhists. This outstanding artwork of Lichhavi sculptures dates back to some 1500 years.
Swayambhunath Stupa:  6.5 kilometers west of Kathmandu, this great temple is just on the outskirts of Kathmandu. No one actually knows who built it. Many believe that the Lichavis constructed it while others believe that emperor Asoka had already visited it in the 3rd century.  The Swayambhunath complex consists of a giant Stupa, a large ensemble of shrines and temples, and also includes a Tibetan monastery, a museum, and a library. This site has two access points: a long stairway, claimed to have 365 steps, leading directly to the main platform of the temple, which is from the top of the hill to the east; and a car road around the hill from the south leading to the southwest entrance. The first sight on reaching the top of the stairway is the Vajra.
Kathmandu Durbar Square: Kathmandu's number one tourist attraction swarms with life. Though a few of the square's 50-plus monuments date from the 12th century, most are from the time of the Malla Kings. Probably the most famous building here is the Kumari Bahal, a building richly decorated with beautiful woodcarvings, which is
home to the Royal Kumari, the Living Goddess and a manifestation of the great goddess Durga. An intriguing piece here is the 17th century stone inscription set into the wall of the palace with writings in 15 languages. The Durbar square, protected as a UNESCO World Heritage site, is the social, religious and urban focal point of the city. There are also museums inside the palace building. There is an entrance fee of Rs.250 for foreign visitors. In the Evening leisure, overnight stay at Hotel.
Day 04:  Final Departure
After breakfast, you will have some free time until the time to leave the international airport for final departure.
What Customer are saying about Muktinath Darshan?