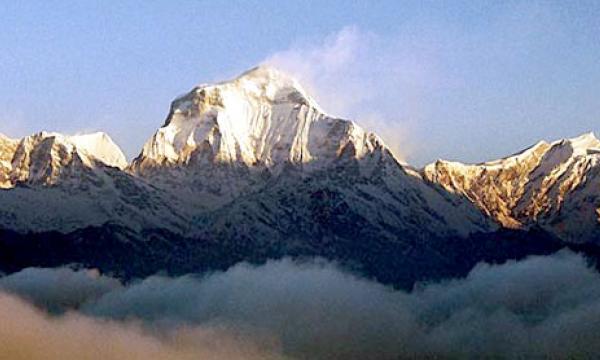 Trip Facts
| | |
| --- | --- |
| | 5 Star |
| | NOV 19, 2023 |
| | 4 days |
| | 3190 meters |
| | 1 people |
| | Overland |
| | Pokhara |
| | Pokhara |
| | Popular Hiking |
Introduction:
This sunrise trek will give you a great trekking experience. Hiking at altitudes between 1500m - 3200m to small mountain villages where you'll be staying in trekking lodges, you'll be able to enjoy the fatigued but cheerful atmosphere at the end of a hefty day's trekking.From Pokhara you will travel to the Kali Gandaki valley for the start of this fairly easy sunrise trek. In four days you will trek through green meadows scattered with small villages and colourful rhododendron forests to Ghorepani, the high mountain peaks reaching up above the surrounding hills. As you have already gathered the highlight of this trek is witnessing the sunrise at Poon Hill at 3190m.
If you're not sure about undertaking a serious trek, then you'll probably enjoy this short sunset trek. There's not too much strenuous walking involved, you'll be staying in lodges and still get the real trekking experience. You will be accompanied by an experienced guide and sherpas will carry the bulk of your gear. You may need to carry your essentails in a small day pack.
Short Itinerary
Day 1: Pokhara to Tikhedunga.
Day 2: Poon Hill sunrise trek -Tirkhedhunga to Ghorepani 
Day 3: Poon Hill sunrise trek - Ghorepani to Ghandrung 
Day 4: Poon Hill sunrise trek - Ghandrung to Pokhara 
Cost Includes
Pokhara to Nayapul and return by private car.
An English Speaking government license holder trekking guide.
Everyday breakfast, lunch and dinner.
Twin bed room sharing tea house accommodation.
Annapurna Concservation Area Project (ACAP) Entry Permit.
Trekker's Information Management System (TIMS) Entry Permit.
Cost Excludes
Kathmandu to Pokhara and return transportation.
Pokhara hotel accommodation.
Bar Bills like Mineral Water, Beer, Whiskey etc.
Items of personal expenses.
Rest of all that are not mentioned in cost inlcudes.
Detail Itinerary
Day 1: Pokhara to Tikhedunga.
Poon Hill sunrise trek - Pokhara to TirkhedhungaTravel time: approx 2 hours by car and 4 hours trekking. After breakfast your driver will pick you up for the two-hour drive to Birethanti. On the way you will be able to see the high peaks of the Himalayas looming in the distance as the road winds its way up to the starting point of the trek. Packed with your camera, warm sweater and some water you head off, accompanied by your guide and local porters. The villagers wave goodbye as you slowly begin your ascent.
The path leads through a thick bamboo forest to lush green fields where cows with red plumes on their heads graze contentedly. There's plenty of opportunity to stop off for some pictures or a drink on the way. After about 4 hours you arrive in Tirkhedhunga, a small village with a couple of shops, a wobbly hanging bridge across the river and waving children that follow you with curiosity. You'll be sleeping in a basic lodge. There's running water but don't expect a hot shower.
Day 2: Poon Hill sunrise trek -Tirkhedhunga to Ghorepani
Travel time: approx 6 hours trekking .After a hearty breakfast it's time to pack your things and head off on the trek. The first stretch is fairly easy as you walk downhill into the valley. As you cross the river Burungdi Khola make sure to stop and admire this spectacular mountain river which at times is a peacefully flowing stream but can fast become a wild churning rapid. The freezing cold meltwater flows down from high up on the mountain. Then it's the most strenuous part of the trek. Heading up some stony steps you slowly make your way to 2000m.
At the end of this strenuous climb you'll be rewarded with an amazing view of the snow-capped mountains rising up above the surrounding hills. The last part of the trek ispretty level and leads through a colourful and aromatic rhododendron forest. On arrival in Ghorepani put your feet up, have a drink and relax. As you look around you see colourful prayer flags blowing in the wind at the many temples and snowy mountain peaks in the background.
Day 3: Poon Hill sunrise trek - Ghorepani to Ghandrung
Travel time: approx 8 hours trekking
It's an early start this morning so as not to miss the highlight of this popular sunrise trek: the sunrise at Poon Hill. After breakfast you start the one-hour climb to the top at 3190m. Once you reach the top, sit yourself down on a nice comfy rock and watch as the sun slowly colours the white peaks of the Annapurna and Dhaulagiri a deep orange. It's enough to give you goose bumps.
When the sun's up the trek continues to Ghandrung. You'll meet a lot of local villagers on the way carrying all kinds of interesting paraphernalia. Everything is lugged up the mountain from sacks of rice to live chickens in big baskets, even entire beds. The local men all wear simple flip-flops but they're still a lot faster than us tourists in our posh hiking boots. On the way you pass through green fields where you can see farmers working the land. At the end of the afternoon you reach a small Gurung village where you will spend the night in a basic lodge.
Day 4: Poon Hill sunrise trek - Ghandrung to Pokhara
Travel time: approx 6 hours trekking.In the morning you will leave for the last part of the sunrise trek to Nayapul, about 6 hours - downhill all the way. When you arrive you'll find your transportation waiting for you for the two-hour drive to Pokhara.This friendly town is the starting point of several treks. Most of the hotels are situated around the lake and this is also where you'll find plenty of bustling bars and restaurants. You'll stay in a lovely comfortable lakeside hotel a perfect place to relax with those post-trekking aches. A little extra comfort won't go amiss and you'l deserve it after the action of the past few days. The restaurants in Pokhara offer plenty of western food too so you can enjoy those pizzas, curries, pancakes and fresh fruit juices again. On a clear day you can see the snow-capped mountain peaks in the distance, you can rent a boat and go out on the lake or visit the golden Varahi temple. 
After another night or two in Pokhara you can head back to Kathmandu either by Greenline tourist bus, or domestic flight, just ask one of our travel specialists.
Travel tips
Best time to travel
The best time of year to go trekking in Nepal is Spring (March - May) or Autumn (October-November). Summer (June - September) is monsoon season and the rain can make travel difficult with landslides blocking the road. A trekking in the rainy season isn't much fun, especially above 1000m. Paths are muddy and slippery and trekkings are often cancelled due to poor weather conditions. The winter months (December - February) can be pretty cold and many of the higher mountain passes blocked because of the snow.
Accommodation
During the trek you will be staying in trekking lodges. These are (very) basic Nepali lodges with just a couple of rooms with two separate beds. The lodges have running water but don't expect a hot shower. Blankets are available but we recommend bringing your own sheet bag. You can rent sleeping bags in Pokhara.
What Customer are saying about Muktinath Darshan?