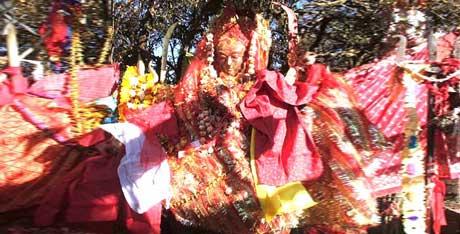 The Goddess at Pathibhara is believed to fulfill the long-cherished dreams of her devotees, like sons for those without sons, and wealth for the poor. Pathivara Devi is considered one of the ''Shakti peeths''. Worshippers from different parts of Nepal and India flock the temple during special occasions, as it is believed that a pilgrimage to the temple ensures fulfillment of all that the pilgrim desires. The devotees of Pathibhara also include members of the Royal family from Nepal. The pilgrims sacrifice animals and bring gold and silver as offerings to the Pathibhara Devi.
Ethnic Diversity:
The predominant people here are the Limbus, with the higher regions inhabited by people of Tibetan-Mongoloid ancestry. Tibetans, Sherpas, Rais, Gurungs, Magars, Newars, Sunwars, and Tamangs also live in this area, while the area also offers cultural diversity of Chhetris and Brahmins.
Other Attractions:
Other attractions of the region are monasteries situated in Olangchungola and Lungchung, the waterfall at Sawa and the pond of Timbuk. Also the forest ecosystem along the trail offers diversity of wildlife, birds, flowers and butterflies. Most of the Kanchanjunga range can also be seen from here.
Access
The journey to Pathibhara starts from Suketar (2,840 m) about a 2-hour walk from Phungling Bazaar. Pathibhara Devi Temple is about 8-10 hours from Suketar. From Suketar the Pathibhara trail passes through Deurali, Ramitedanda, Chhatedhunga, Bhalugaunda, Phedi and finally to Pathibhara. The trail offers food and lodging facilities. Basic accommodation facilities are also available for pilgrims near the shrine
Pathibhara Devi Package
5 Nights / 6 Days
8 Nights / 9 Days