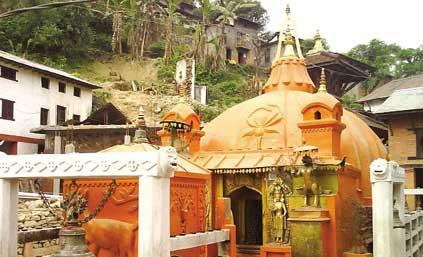 There are four religious centers of Hindus in Nepal. They are Muktikshetra, Rurukshetra, Barahakshetra and Pashupatikshetra. Two of them, Muktikshetra and Rurukshetra are located on the Kali Gandaki River. Ruru Region lies in the western Nepal. About 96 km to the north of Lumbini and 30 km to the northwest of Tansen lies Rurukshetra, at the confluence of the Kali Gandaki and the Ridi rivers. Ruru is on the tarred road linking Tansen with Tamghas. Ruru region covers Ruru, Thanapani and Aslewa VDCs of Gulmi district, Argali VDC of Palpa district and Karikot of Chanjebhanjyang VDC of Syangja district. 
Ruru, commonly known as Ridi, was named after a mythological girl named Ruru. She was born to a fairy named Pramlocha and brought up by a doe. Ruru, through her penance, pleased Lord Vishnu. When Lord Vishnu appeared before her and asked her to beg of him for a boon, she asked him to stay there forever. So, Lord Vishnu stayed there as Hrishikeshav. There are two separate temples dedicated to Lord Vishnu and Ruru Kanya. A four armed stone- image is seen inside the Hrishikeshav Temple. Other places worth visiting are Bhrigutungeshwor Mahadev, cave, Achammeshwor, Ram temple at Rudrabeni etc.
Ruru is known as Banaras of Nepal because all the Hindu rituals which are performed on the bank of Ganges in Banaras are also performed here. The most important festival at Ridi is Maghesankranti, the first day of the Nepali month Magh (mid-January). Thousands of Hindu devotees have a holy dip in the water of Kali Gandaki River. This is also done on every Ekadashi, the eleventh day of the new moon and eclipses. It is believed that the holy dip cleanses their bodies and souls free from sins and prepare the souls for salvation. Most Hindus in surrounding areas wish to be cremated after their death on the bank of the Kali Gandaki at Ridi for salvation. In case of failure to bring dead bodies here for cremation, ashes are flowed in the water of Kali Gandaki.
Srinagar Hill (1/2km)  
The 1650 meter high majestic ridge covered with dense pine forest in the south slope and natural vegetation with the National flower ''Rhododendron'' in the North Slope is popular for naturalist, the nature lover, mediators, picnic, motion picture producers and visitors.
A stone carved ''sitting and standing twine statue of the Lord Buddha has been established and is known as Parileyak Ban. It is the best viewpoint for majestic Himalayan Range , Madi valley and Mahabharat Mountains , villages, sunrise/sunset and Tansen Town .
Bhusal Danda (3km)
Bhusal Danda is famous place of UMN Hospital . Thousand of poor-health people from north part of India and Nepales from west Nepal come for their better treatment here. A Lions guesthouse has been established here to provide services to the unwell people and belongings. Covered Hall for indoor games is located here as well. 
Tansen Durbar: 
Tansen Durbar, the palace of Tansen is the administrative center of Palpa Districe. General Pratap Shamsher built theis palace in 1927 AD. It is a four-storied building with sixty-three rooms, two meeting halls, and two minarets at two sides. The main gate of this palace is know as ''Baggi Dhoka'' the biggest gate in the Kingdom. The Durbar is known as a ''Singh Durbar of Palpa" functioning as at Singh Durbar at Kathmandu . 
Sitalpati
Sitalpati is a famous public square. Khadga Shamsher JBR built the octagonal shaped house.
How to  get there
To and From Kathmandu :  
By Road:  There are dailly  publick comfortable transport by  Coach  other small vehicle 
From Bhairahawa / Sunauli:  At the airport and in town taxis / Jeep are available. It takes 2 /3 hours to reach.
Ruru Kshetra Package
5 Nights / 6 Days
5 Nights / 6 Days
7 Nights / 8 Days